27th September 2020
---
Sixteenth Sunday after Trinity
Welcome to our online notice sheet. Although we are not able to meet together in person at the moment, following the escalation in the Coronavirus, we can still pray for one another, comfort and encourage each other, and perhaps help in some practical ways as well.
AVM & APCM
---
The Annual Vestry Meeting & Annual Parochial Church Council Meeting will take place on the 27th September at 11.30 am following a combined service at 10.00 am. A booking system will be in place for the 10.00 am service. The service will be live-streamed on the church YouTube channel and you can join the meeting via Zoom using this LINK.
Harvest Festival
---
Harvest Festival will be celebrated at all three services, 9am, 11am and 6pm on Sunday, 4th October. Donations for the One Can Trust Food Bank will be received at all the services. The suggested items can be found below.
There is a box at the back of the Church where donations can be placed at any time the Church is open. Hughenden Village shop have kindly agreed to supporting the Harvest Appeal by having a collecting basket in the shop for two weeks.
Financial Donations are also very acceptable to help with the operating costs of the Trust, donation envelopes are in the Church.
A big thank you to everyone for their generous support, we have a difficult winter ahead of us when many families will be facing hardship.
Mission Support Group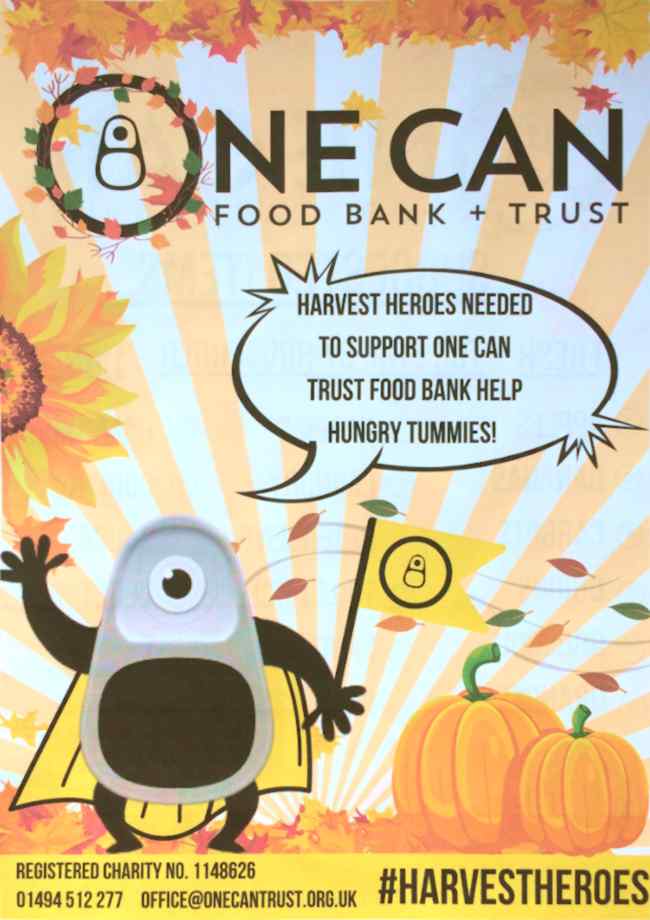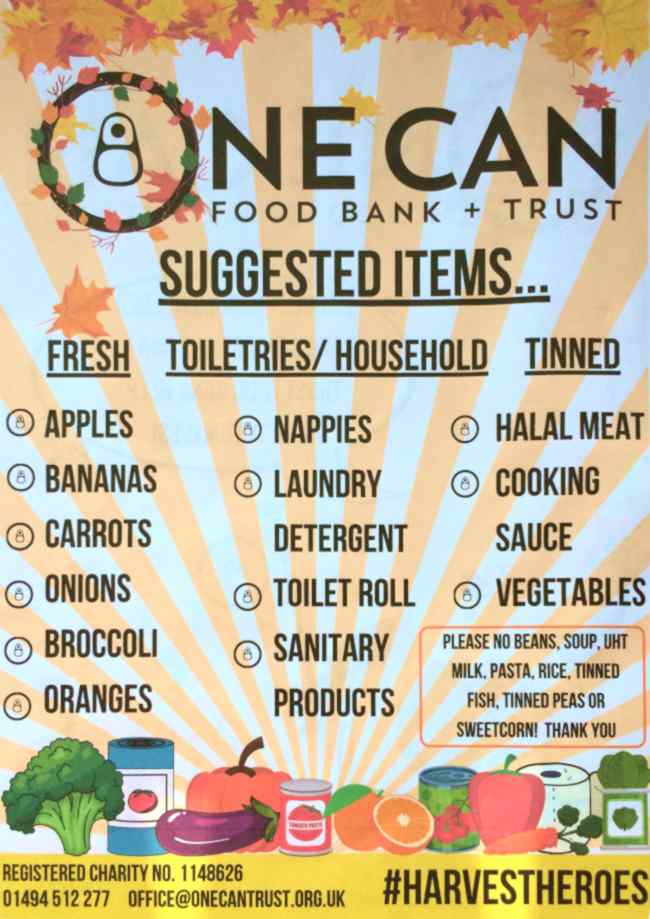 OUTLOOK
---
The October edition of Outlook is now available on Magazine page. Be sure to check out the children's design competition for the December/January magazine cover. Details in October's magazine.
The printing and distribution of physical copies has resumed with the July/August edition.
READINGS
---
Below are Sunday's readings if you wish to continue with the lectionary readings:
| | |
| --- | --- |
| Old Testament Reading: | Ezekiel 18: 1-4 & 25-32 |
It was proverbial in Israel that God punished children and even grandchildren for the ancestors' sins. Not so, says Ezekiel. The Lord is not like that. Every person carries his or her own destiny, and everyone who turns away from sin turn to God will be given life.
| | |
| --- | --- |
| New Testament Reading: | Philippians 2: 1-13 |
Paul is in prison, glad of opportunities to speak of Jesus to his guards. He still feels intimately linked to the Christians in Philippi, and his own humiliating circumstances inspire him to a much-loved reflection on the humility of Christ in coming to share human experience in order to unite us to God.
| | |
| --- | --- |
| Gospel Reading: | Matthew 21: 23-32 |
Jesus speaks with more authority than any prophet of former times, and more than John the Baptist. And his message in this Gospel is much the same as theirs, and the same today: every person who turns away from sin and turns to Christ will be welcomed into the kingdom of heaven.
INTERCESSIONS
---
You are encouraged to especially remember the following people in your prayers at this time:
Bob Stone, Cerys Seys Llewellyn, Ann Way, Rex & Mary Harris, Kay Kennedy, Ray Simms, Christie, Alma Hansford, Anne Bowker, John Barcock, Pauline Styles, Julie Laid, Jean Evans, Rose Kakol, Beryl Bacon, Meg Freeman, and all who care for and about them.
Please pray for Alan Hawes, who has broken his hip following a fall, and for his wife Moyna as she supports him.
Collect for the Sixteenth Sunday after Trinity
O Lord, we beseech you mercifully to hear the prayers
of your people who call upon you;
and grant that they may both perceive and know
what things they ought to do,
and also may have grace and power faithfully to fulfil them;
through Jesus Christ your Son our Lord,
who is alive and reigns with you,
in the unity of the Holy Spirit,
one God, now and for ever. Amen